February: Humanitarian Endeavors
Responding to humanitarian crises, whether from natural disasters or manmade causes, has been a consistent feature of U.S. European Command (USEUCOM) undertakings over the past seven decades. The capabilities inherent in military organizations often make them the best option for responding in dangerous situations or when a large effort is required in a short period of time. Since its earliest days, there have been many occasions when the command and its service components have answered the call to assist neighbors in need. The following two operations represent USEUCOM's first such effort, and the other, one of its longest lasting.
OPERATION HUMANITY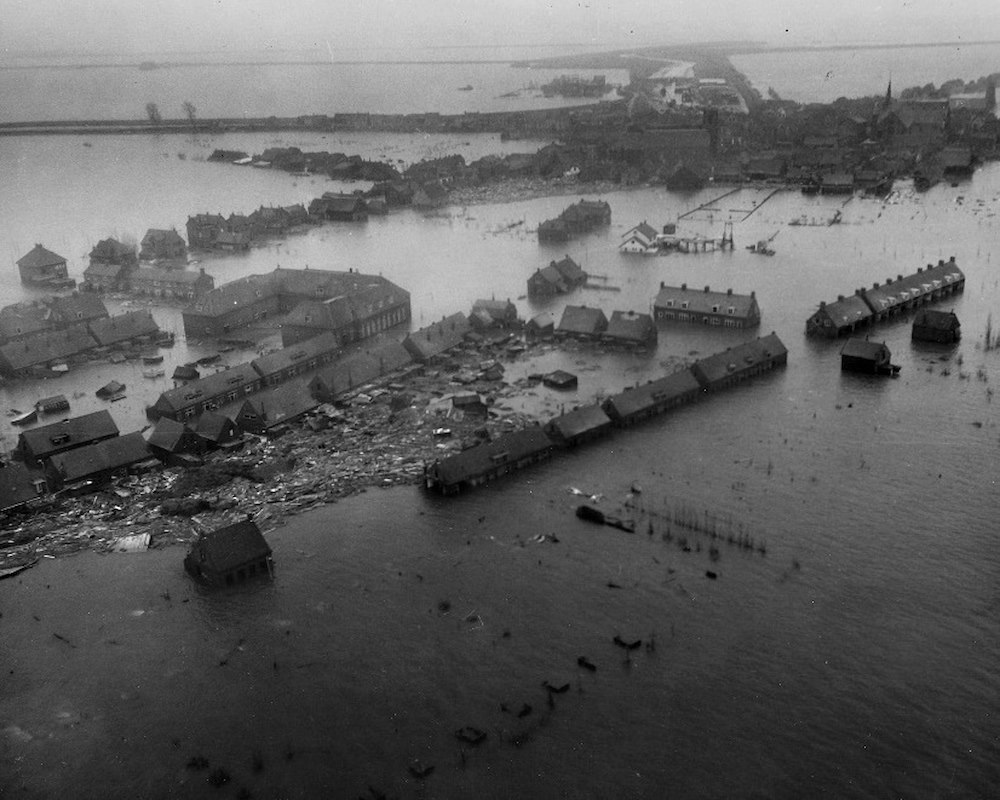 On Sunday, 1 February 1953, a disaster of major proportions struck the Netherlands as North Sea high tides, coupled with gale force winds, breached protective dikes in numerous places. Flood waters were exceptionally high in the provinces of Holland and Zeeland. Prince Bernhard of' the Netherlands announced that the disaster was the worst that his country had suffered in over 300 years. Most heavily hit by the damaging waters and winds were the islands off the southwestern part of the country. Official reports from the disaster zone stated that 1,395 lives had been lost, with property damage running over $1 billion (just over $10 billion today). Communications were completely disrupted in the affected area, which covered seven hundred square miles of land and was inhabited by nearly a million people.
Appeals for aid from the Netherlands Ministry of Defense went out the same day. The U.S. Military Assistance Advisory Group in the country immediately forwarded the request to USEUCOM, which in turn, charged U.S. Army Europe (USAREUR) with oversight of the disaster relief mission. Army Lieutenant General Manton Eddy, the USAREUR commander, and his staff quickly worked to establish what was known as the American Military Relief Organization (AMRO). It would be located at The Hague in order to cooperate directly with the Dutch government and military. USEUCOM also directed U.S. Air Forces in Europe (USAFE) and U.S. Naval Forces, Germany (NAVFORGER) to support the relief effort designated as Operation HUMANITY.
To carry out the AMRO mission, USAREUR quickly dispatched hundreds of engineer troops along with several companies of amphibious trucks that could operate in flooded areas. A provisional aviation element of helicopters and liaison aircraft from Seventh Army units deployed to Gilze-Rijen airfield to provide observation and rescue support. NAVFORGER sent a detachment from its Rhine River Patrol consisting of two landing craft and two patrol boats to operate along rivers and in flooded areas. During the emergency relief period from 2-7 February 1953, USAFE airlifters flew over 353 sorties, evacuating 161 persons and airlifting 1.1 million pounds of supplies. Of that, 660,000 pounds were delivered to the disaster area by 598 airdrops. Typical relief items provided by AMRO included emergency rations, water purification equipment, shovels, sandbags, blankets, medical supplies, and emergency clothing, as well as six-man life rafts, one-man life rafts, and immersion suits. Air Rescue Service helicopters also assisted by conducting evacuations and rescuing stranded civilians in the flooded areas. The contributions of USAREUR, NAVFORGER, and USAFE elements made AMRO a true joint team effort. Their work was augmented by British units that were also responding to devastation in their country.
Support to Operation HUMANITY was not limited to only military personnel and units. At Army posts and Air Force bases in Germany, dependent schools and family support organizations began donation drives to solicit clothing, bedding, and other household items to distribute to Dutch civilians at relief shelters near the disaster zones. The European Exchange System, a precursor of today's AAFES-European Region, provided a mobile concessionaire and snack bar service to support AMRO personnel deployed in country. German local nationals who were employed with the amphibious truck companies also accompanied the deployment. Other international agencies, such as the Red Cross, received monetary and other support from U.S. personnel across the theater which sought to provide longer term relief.
Evacuations from the flooded islands were mostly complete by 8 February. Subsequent AMRO tasks involved assisting with road and dike repairs, air transport of additional relief supplies, and general clean-up work. By 17 February, Dutch military authorities asked that some materiel and vehicles be temporarily borrowed to allow its own forces to carry on residual recovery efforts, but otherwise, Operation HUMANITY was generally complete. All American personnel and vehicles began returning to home garrisons on 18 February, and AMRO closed its headquarters at The Hague two days later. A subsequent analysis of the operation indicated that prompt actions by all contributing Army, Navy, and Air Force units had greatly reduced the loss of life and had alleviated untold suffering in a key partner nation.
OPERATION PROVIDE HOPE
"We're living in a new world." Shortly after speaking these words, on 25 December 1991, Mikhail Gorbachev resigned as Soviet President and Commander-in-Chief, which effectively dissolved the communist state. Days earlier, 11 former Soviet republics had declared their independence and established the Commonwealth of Independent States (CIS). Food and medical supply shortages soon struck these new nations as they struggled to establish a de-centralized economy after being part of the Soviet Union for 69 years.
On 23 January 1992, American Secretary of State James Baker publically announced Operation PROVIDE HOPE, a large U.S. endeavor to deliver medical equipment and food to the CIS republics. Although primarily a State Department sponsored initiative, the U.S. military and its airlift capability was seen as the best option for rapidly getting cargo into places where austere airfield conditions could prove a challenge. Most relief supplies were earmarked for hospitals, schools, orphanages, community shelters and senior citizen centers. Initially conceived as a short-term effort, it was a mission that would ultimately last for two decades.
Because of its proximity to many of the countries, the Department of Defense charged USEUCOM with leading the military portion of the operation and directed the U.S. Transportation Command (USTRANSCOM) to support those efforts with its large strategic airlifters, such as the C-5 Galaxy and C-141 Starlifter. The two commands brought together mobility and logistics planners in early February. Drawing from excess Operation DESERT STORM supplies stored at multiple depots in Europe, the bulk of the relief supplies would be pre-positioned at Rhein-Main Air Base (AB) near Frankfurt, Germany, where they could be flown directly to airfields in CIS countries closest to Eastern Europe. Additional materiel was also stockpiled at Incirlik AB and Ankara in Turkey to be flown to central Asian republics further in the east. Other countries, such as Germany, Japan, and Turkey also contributed relief supplies, which would be incorporated into the airlift.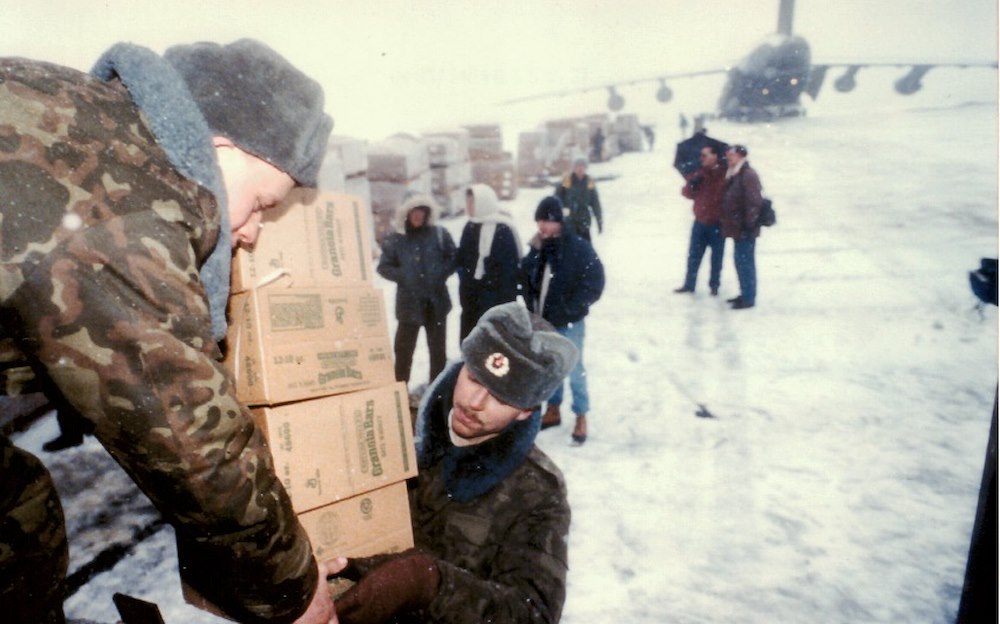 The first phase, known as Operation PROVIDE HOPE I, began 30 years ago on 10 February 1992. Twelve missions were flown on the first day and included flights to Russia, Armenia, Kazakhstan, Ukraine, Turkmenistan, Azerbaijan, Tajikistan, Uzbekistan, Kyrgyzstan, Moldova, and Belarus. Additional flights were conducted each day as part of an intensive effort to deliver as much as possible in the shortest period of time. During the course of the initial phase, American air crews faced unique complications posed by operating in countries that never expected to support U.S. military aircraft. The C-5s and C-141s often had to transport extra ground crews and forklifts to off-load the supplies and safely execute refueling operations. In some remote airfields, aircraft could only land during the day because of a lack of night navigation facilities. Despite these challenges, the first phase successfully ended on 26 February, and by that time, the airlifters had transported 2,274 tons of food and medical supplies to 24 cities across the CIS countries.
While Operation PROVIDE HOPE I delivered immediate relief, subsequent efforts were needed to provide lasting assistance. Operation PROVIDE HOPE II, which began on 29 February 1992, increased the volume of medical and food relief provided to the CIS by incorporating commercial air carriers, and utilizing sea and land delivery routes. Lasting until May 1993, this second operation ultimately delivered over 19,000 tons of medical and food supplies.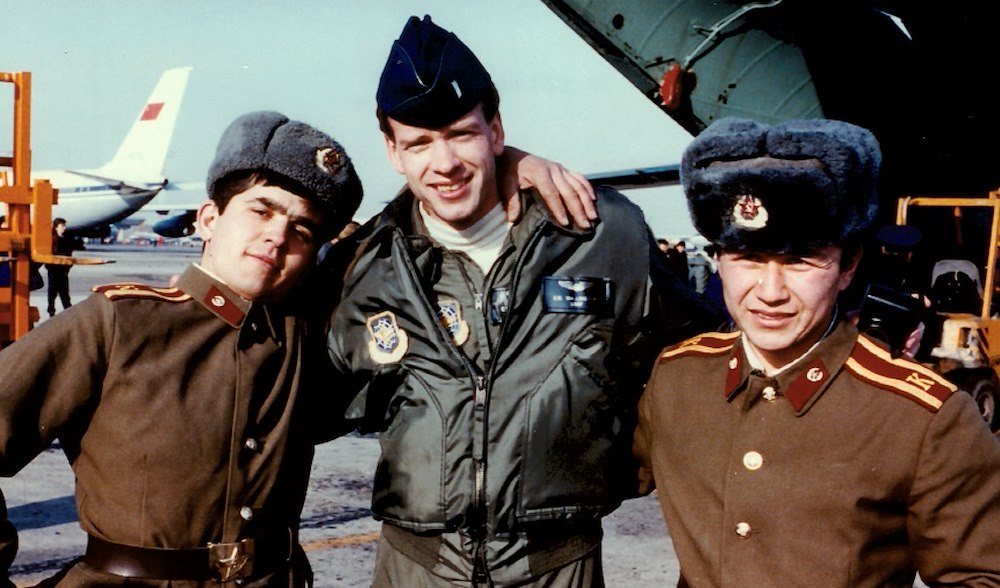 In the wake of the initial success of the first two phases, the U.S. Congress passed the Freedom Support Act in mid-October 1992 to sustain the assistance to the newly independent states as they made the fragile transition to democratic governance. The next phases, Operations PROVIDE HOPE III and IV, continued to deliver relief until September 1994 and constituted an additional 10,400 tons of supplies. Further iterations of PROVIDE HOPE were conducted on a smaller scale and continued to foster goodwill across the region. The effort marked its 500th flight in June 1997 and reached its 1000th, and ultimately final, mission in May 2014. For over two decades after the fall of the Soviet Union, the U.S. continued to utilize its unique logistical and financial resources to ensure the development of the burgeoning democracies of newly independent states, some of which would eventually become key partners in the region.
Mr. William Butler has served as the USEUCOM command historian since August 2019. He has over 25 years of experience as a Department of Defense historian.
Lt. Col. Alejandro Sante is a career military intelligence officer with 21 years of service and has been assigned as an Army reserve historian with USEUCOM History Office since 2018.
This brief paper is part of a series leading up to USEUCOM's 70th Anniversary in August 2022.
Other pages in this section