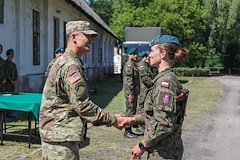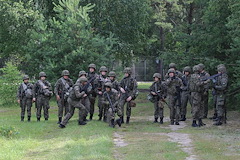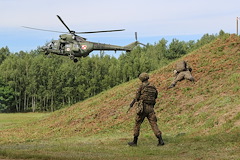 Soldiers assigned to U.S. Army Europe participated in a subject matter exchange at MILITARY DOCTOR 20, an event that tested and trained Polish Land Forces cadets from the Military Medical Training Center, at Training Field Jezewo near Lodz, Poland, July 27 - 31, 2020.
The almost week-long event is a requirement for aspiring Polish military doctors that have already been studying and training for five years.
However, this was the first time medical personnel from the U.S. Army played a role in the event. An International Health Specialist from the USAREUR Office of Command Surgeon coordinated this event and brought 12 hand-picked officers and senior non-commissioned officers with medical military occupational specialties assigned to the 30th Medical Brigade from Baumholder, Sembach, and Wiesbaden in Germany to share their knowledge and experiences with the cadets.
"We are here serving as subject matter experts to our Polish allies and sharing our tactics, techniques, and procedures, as well as comparing theirs to ours as we work on the NATO standards," said Capt. Sebastian Coates, the commander of the 557th Medical Company (Area Support).
Coates said the opportunity to work together and evaluate each other on those standards increases interoperability and allows them to better serve Europe by sustaining the force.
The U.S. Soldiers observed and advised the cadets every day at the lane in which they were the most well-versed. There were six lanes: chemical, biological, radiological, and nuclear training, prolonged field care, combat first aid, Role 1 medical treatment, Role 2 medical treatment, and casualty evacuation.
Capt. Anita Podlasin, Chief of the Simulation Branch at the Polish Military Medical Training Center, was the lead planner of the annual event and said she felt grateful for the U.S. involvement.
"It was a good opportunity to share experiences, expertise, and to see how the U.S. Soldiers deal with different kinds of trauma," Podlasin said.
She said their instruction was incredibly useful in assisting and evaluating the students.
Coates, who observed cadets work at all six of the medical lanes during the event, said he was just as impressed by them.
"Working with the Polish is great. They take it very seriously at all the stations," Coates said. "They look for what we think of it, how they can do better, and how we can support each other."
Coates said they also took the current pandemic just as seriously as everything else by having a lot of precautionary measures and screening just as the U.S. military does.
Sgt. 1st Class David Wotila, the S9 non-commissioned officer in charge of the 30th Medical Brigade, assisted with the cadets' training at the Role 2 treatment station.
Wotila said the type of collaboration at MILITARY DOCTOR 20 is vital because of the shared information of experiences by soldiers both on and off the battlefield. He said it is also critical to work together so that both sides know what tool and intervention to use when someone's life hangs in the balance.
"In these exchanges and collaborations, the payoff and return on investment are huge," Wotila said. "With us doing this, we're able to meet the NATO standard on medical evaluations and become interoperable with one another."
Norbert Mnatsahanyan-Nowak, a fifth-year Polish Land Forces sergeant cadet, said the event made him a better soldier and future doctor because it tested his skills and allowed him to learn from the Americans.
He said the event was demanding, but that cadets were prepared because they have had strenuous training like this before. He added that having U.S. Soldiers there proved beneficial for him.
"The U.S. Soldiers are very helpful. They give us a lot of advice and we can use their knowledge," Mnatsahanyan-Nowak said.
He said cadets felt comfortable asking the Soldiers questions during training and found himself at ease working with them because he was able to see that his training was not so different from the Americans' training.
"I feel thankful that the U.S. is here because we can use their knowledge and experience," Mnatsahanyan-Nowak said.