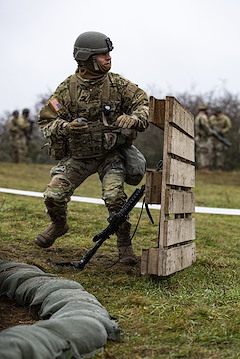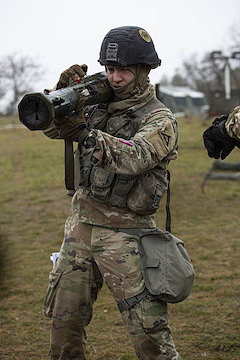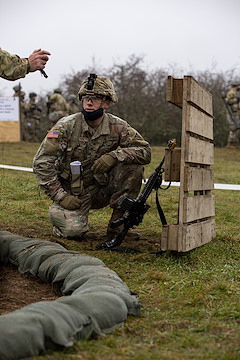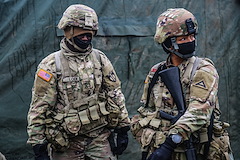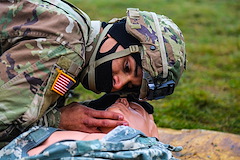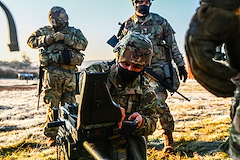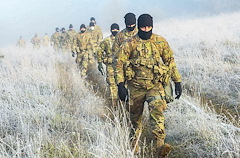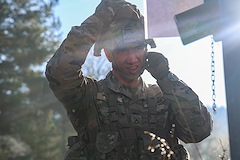 U.S. Army Soldiers gathered at the Hohenfels Training Area for a chance to earn Expert Infantryman (EIB) or the Expert Soldier Badges (ESB). The five-day event, held Nov. 16-20, gives soldiers the opportunity to demonstrate proficiency in a variety of soldier tasks and skills, and challenges both the physical and mental strength of the participants.
Established in 1943 during World War II, the EIB was developed to recognize exemplary infantrymen, and became an ongoing program for soldiers to participate in. In 2019, the U.S. Army extended this opportunity to non-infantry soldiers by developing the ESB, which follows the same events held for the EIB.
Master Sgt. Tim Brogan, the Operations Sergeant Major For the 1st Battalion, 4th Infantry Regiment at JMRC, said that the chance for soldiers of all occupational fields to demonstrate their abilities is one that will help them grow as soldiers, and help set them apart in their career paths.
"Being able to call yourself an expert shows that you were able to overcome the challenges and you were able to master those basic skills," said Brogan. "It will definitely separate you from your peers and help you in your career, especially when it comes to promotion."
Brogan said that practicing and maintaining proficiency the soldier skills all U.S. Army soldiers learn in basic training is key to achieving success in the ESB course. Preparing physically for the event, which includes a physical fitness test and a 12-mile ruck march, is also important for success.
Brogan also emphasized the responsibility of soldiers to continue maintaining those skills after they have completed their ESB.
"Everyone who earns this badge, wears it proudly, and that is great," Brogan said. "But you can't wear it, you have to bear it, so after you earn it you have to maintain proficiency. Everything here is a perishable skill, so if you do not do it enough and go out of your way to maintain proficiency in these tasks, you will lose them."
For 1st Lt. Andrew Carrosino, an Armor Officer with the 7ATC, said that participating the ESB event gives him with a venue to train alongside his soldiers as they worked with each other to learn the variety of weapons systems and processes required to earn the ESB.
"It's really a great opportunity to train as a soldier and be a student," Carrossino said. "As a lieutenant, I am often planning and preparing training, but I do not always get to execute the training with my soldiers, so it is a great opportunity to do that."
While the scope and variety of tasks may seem daunting, Carrosino encouraged soldiers from all occupational backgrounds to challenge themselves by participating in an ESB event.
"At the end of the day it makes you a well-rounded soldier, and everyone in the Army is a soldier first," Carrosino said. "If you are ready and you want to do it, get out here and give it your best shot because even if you don't take away anything else, you will learn something."
---
This article was originally published here: https://go.usa.gov/x7dRa