Chief Master Sergeant Phillip L. Easton, U.S. Air Force
Senior Enlisted Leader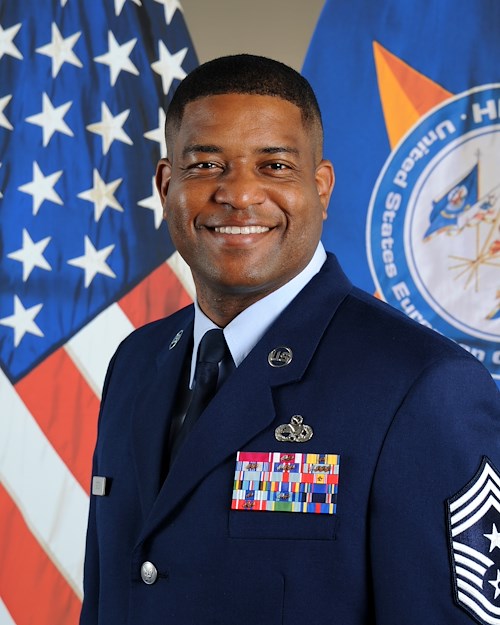 The Senior Enlisted Leader for United States European Command advises the commander on enlisted issues, and provides leadership to the 82,000 joint service members distributed over 400 bases and facilities in an area of responsibility covering 51 countries. The Senior Enlisted Leader provides guidance on theater security cooperation, promotes enlisted professional development through training and education in order to build partner nations' capacity and improve interoperability, and serves as a mentor for senior enlisted in the European footprint to include: U.S. service components; partner nations within NATO; and Partnership-for-Peace countries.
Chief Master Sergeant Phillip L. Easton assumed the duties as Command Senior Enlisted Leader for U.S. European Command on August 2, 2019. He hails from Los Angeles and entered the U.S. Air Force in August 1990.
Chief Easton has a background in aircraft maintenance working various aircraft weapons systems including the KC-135A/R, Airborne Warning and Control System, C-17 and F-16C/J aircraft. He was a Military Training Instructor at Lackland Air Force Base, Texas for five years and served as the Commandant of the Erwin Professional Military Education Center and Mission Support Group Superintendent at Kadena Air Base, Japan.
Chief Easton's professional education includes Basic Training, Lackland Air Force Base, Texas; Technical Training School, Keesler Air Force Base, Mississippi; Airman Leadership School at Tinker Air Force Base, Oklahoma; Noncommissioned Officer Academy, Lackland Air Force Base; Senior Noncommissioned Officer Academy, Maxwell Air Force Base, Alabama; Chief Leadership Course, Maxwell Air Force Base; as well as the National Defense University's Keystone Course, Fort McNair, Washington, D.C.
In 2011, Chief Easton earned his Bachelor of Science in Business Management from Park University.
During his career, Chief Easton has been stationed at the squadron, group, wing, and numbered air force levels to include duties as Command Chief Master Sergeant, 341st Missile Wing, Malmstrom AFB, Montana; Command Chief Master Sergeant, 86th Airlift Wing; and Command Chief Master Sergeant, 3rd Air Force and 17th Expeditionary Air Force, all located at Ramstein Air Base, Germany.
Prior to assuming his current position, he was the Command Chief Master Sergeant, U.S. Air Forces in Europe and U.S. Air Forces Africa based at Ramstein Air Base, Germany.
Chief Easton's decorations and awards include the Legion of Merit, the Meritorious Service Medal with six oak leaf clusters, the Air Force Commendation Medal with oak leaf cluster, the Air Force Achievement Medal with two oak leaf clusters, and various other medals and ribbons.
Other pages in this section