Rear. Adm. Patrick A. "Pat" Piercey, U.S. Navy
Chief of Staff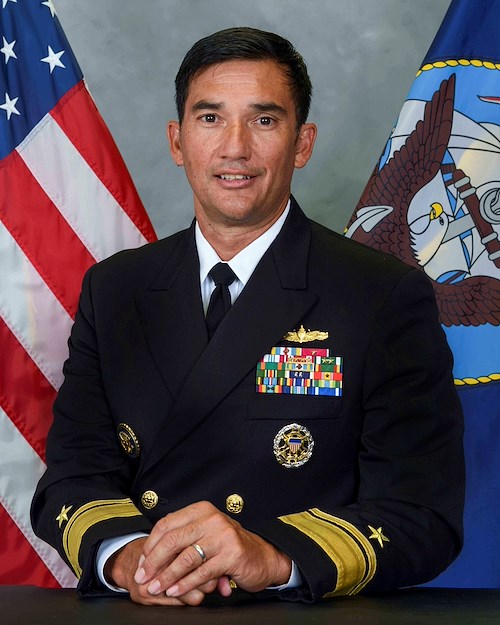 Rear Adm. Patrick Piercey is a native of Clinton, Oklahoma. He was commissioned in 1985. Piercey is a 1985 graduate, with distinction, of the U.S. Naval Academy, Bachelor of Science in Systems Engineering; the Army Command and General Staff College, master's in military arts and science; and the Armed Forces Staff College.

His sea assignments have included commander, Carrier Strike Group 9 embarked on USS Ronald Reagan (CVN 76) and USS George Washington (CVN 73); commanding officer and executive officer, USS Bunker Hill (CG 52); reactor officer, USS John C. Stennis (CVN 74); commanding officer, USS Howard (DDG 83); engineer officer, first lieutenant and auxiliaries division officer, USS Mississippi (CGN 40); and combat systems officer and weapons officer, USS Thomas S. Gates (CG 51).

His shore assignments have included policy planner, Office of the Chief of Naval Operations, Strategy and Concepts Branch (N513); White House fellow and special assistant to the deputy director, White House Office of Management and Budget; policy planner, The Joint Staff, Directorate for Strategy and Policy (J-5), Space and Ballistic Missile Branch; executive assistant to the assistant to the chairman of the Joint Chiefs of Staff; deputy director of Plans, Policy and Strategy (EC-J5) at the United States European Command; director, for Maritime Operations (N04) at U.S. Pacific Fleet; Commander, Naval Surface Force Atlantic; and director for Operations at United States Indo-Pacific Command.

Piercey assumed duties as Chief of Staff, United States European Command in June 2018.

He has been awarded the Defense Superior Service Medal (three awards), Legion of Merit (four awards), Defense Meritorious Service Medal, Meritorious Service Medal (four awards), the Navy and Marine Corps Commendation Medal (two awards) and the Navy and Marine Corps Achievement Medal.
Other pages in this section