Maj. Gen. Adrian L. Spain, U.S. Air Force
Chief of Staff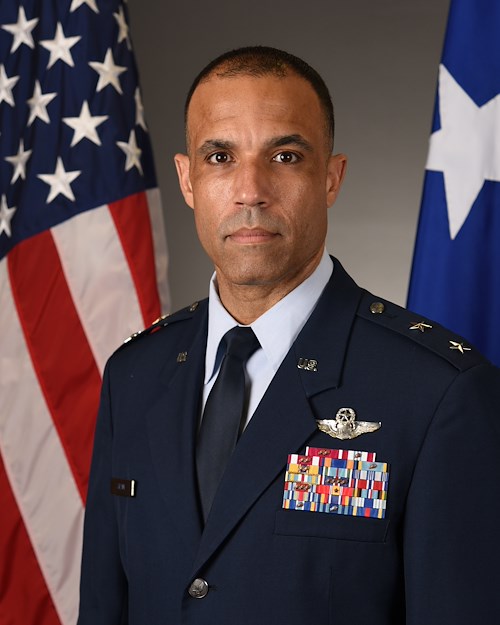 Major General Adrian L. Spain is the Chief of Staff, Headquarters United States European Command, Patch Barracks, Stuttgart, Germany. He exercises day-to-day supervision of the staff, is responsible for management of all matters involving daily operations of the U.S. European Command, and provides counsel and advice to the Commander, Deputy Commander, and Civilian Deputy on all matters affecting the command. Maj Gen Spain also conducts regular coordination with and between the Office of the Secretary of Defense staff, Joint Staff, other combatant commands, component commands, and the USEUCOM staff.

General Spain entered the Air Force in 1994 through the ROTC program, graduating from Villanova University with a Bachelor of Electrical Engineering. He is a Command Pilot with more than 2300 hours in multiple aircraft, primarily the F-15C and F-22. He is a 2001 graduate of the USAF Weapons School. As Weapons Officer for the 58th FS in 2002, he led the first Operation NOBLE EAGLE deployment to the National Capitol Region, and the first missions under wartime ROE while deployed for the start of Operation Iraqi Freedom in 2003. He would later serve as an instructor at the USAF Weapons School in the 433d Weapons Squadron.

General Spain has commanded at the Squadron, Group and twice at the Wing level. He served as Commandant of the USAF Weapons School, building the next generation of Air Force leaders and tactical experts across 18 squadrons, 6 MAJCOMS and all AF warfighting disciplines. As the 53d Wing Commander, he led 70+ units devoted to Operational Test and Evaluation (OT&E), weapons evaluation, electronic warfare and mission data development for fighter, bomber, PR, high-altitude ISR, space and electronic warfare weapons systems. He deployed to command the 380th Air Expeditionary Wing, executing Air Refueling, Command and Control, Air Superiority, Strike and ISR missions throughout the CENTCOM AOR. Most recently General Spain led United States European Command through OPERATION ALLIES REFUGE, ALLIES WELCOME, and all US theater posture, activity, and support in response to the conflict in Ukraine as the Director of Operations, Stuttgart, Germany.
Other pages in this section