Operation Overlord (D-Day)
On June 6, 1944, in Operation Overlord, Allied forces landed troops on the beaches of Normandy, France, for the largest amphibious assault in history. Gen. Dwight D. Eisenhower called the operation a crusade in which, "we will accept nothing less than full victory."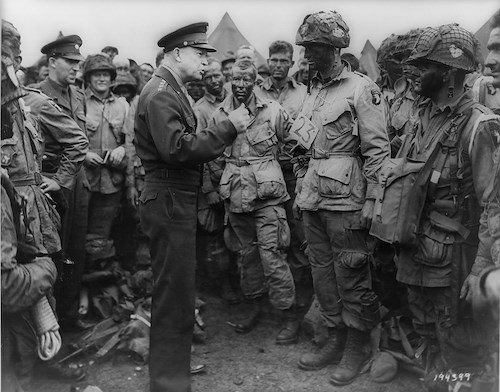 Gallery contains 5 images
On June 6, 1944, in Operation Overlord, Allied forces landed troops on the beaches of Normandy, France, for the largest amphibious assault in history. Gen. Dwight D. Eisenhower called the operation a crusade in which, "we will accept nothing less than full victory." More than 5,000 Ships and 13,000 aircraft supported the invasion, and by day's end, the Allies gained a foot-hold in Continental Europe. The cost in lives on D-Day was high. More than 9,000 Allied Soldiers were killed or wounded, but their sacrifice allowed more than 100,000 Soldiers to begin the slow, hard slog across Europe.
In a larger strategic sense, the successful Allied landing in France was a psychological blow to the German occupation of Europe. It called into question the German Army's ability to control western Europe, dramatically increase partisan activity against enemy occupation, and heartened the spirits of those fighting against Nazi tyranny. The balance of power on the continent was decisively tipped into Allied favor.
From D-Day on, the Allies would begin a drive into Germany that ultimately destroyed Adolph Hitler and the Nazi regime on May 7, 1945.
---
#DDay76
Every year, U.S. European Command Components and historic-lineage military units from the U.S. participate in D-Day commemoration in the Normandy region of France. Due to COVID-19, the most disruptive global crisis since World War II, most D-Day 76 events/ceremonies are cancelled this year. And while coronavirus has interrupted life around the world to an unprecedented degree, we continue the D-Day tradition by virtually honoring all the Allied forces who stood defiant against Nazi tyranny on land, at sea and in the air 76 years ago.
The following letter (in English and French), written by historic-lineage Army units to the French, highlights the importance of commemorating the event even though the coronavirus has forced all involved to do it virtually:
---
Learn more about D-Day below: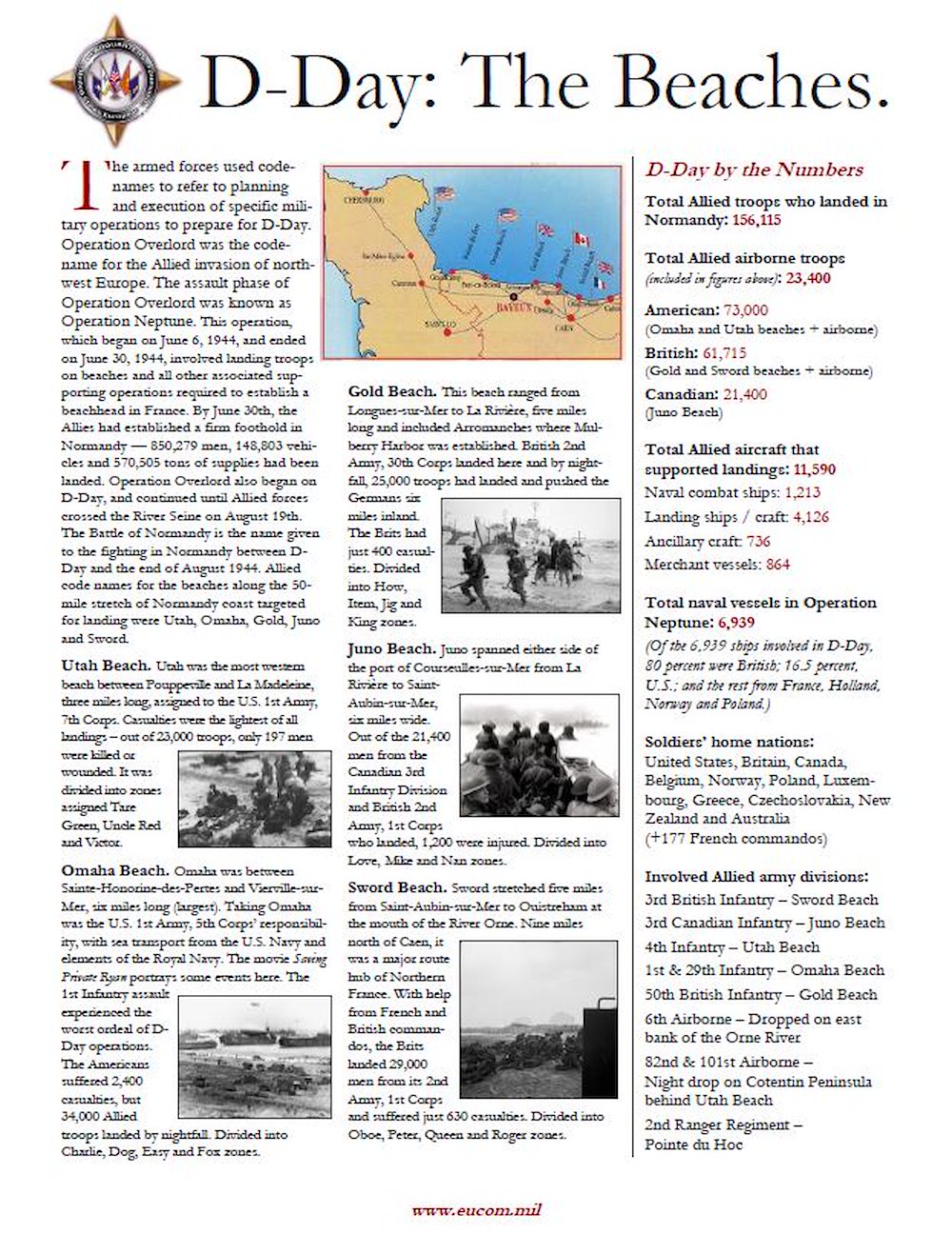 D-Day By The Numbers
Total Allied troops who landed in Normandy: 156,115
Total Allied airborne troops (included in figures above): 23,400
American: 73,000 (Omaha and Utah beaches + airborne)
British: 61,715 (Gold and Sword beaches + airborne)
Canadian: 21,400 (Juno Beach)
Total Allied aircraft that supported landings: 11,590
Naval combat ships: 1,213
Landing ships / craft: 4,126
Ancillary craft: 736
Merchant vessels: 864
Total naval vessels in Operation Neptune: 6,939 (Of the 6,939 ships involved in D-Day, 80 percent were British; 16.5 percent, U.S.; and the rest from France, Holland, Norway and Poland.)
Soldiers' home nations: United States, Britain, Canada, Belgium, Norway, Poland, Luxembourg, Greece, Czechoslovakia, New Zealand and Australia (+177 French commandos)
Involved Allied army divisions: 3rd British Infantry – Sword Beach 3rd Canadian Infantry – Juno Beach 4th Infantry – Utah Beach 1st & 29th Infantry – Omaha Beach 50th British Infantry – Gold Beach 6th Airborne – Dropped on east bank of the Orne River 82nd & 101st Airborne – Night drop on Cotentin Peninsula behind Utah Beach 2nd Ranger Regiment – Pointe du Hoc.