COVID-19 Vaccination Q & A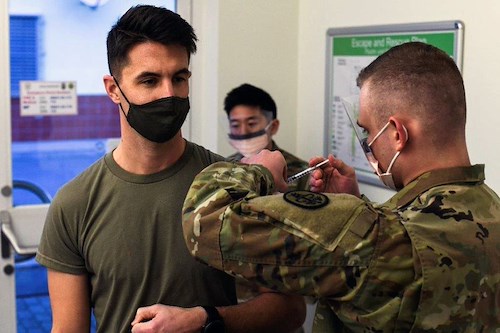 Key Questions and Answers:
Q: Is the COVID-19 vaccination mandatory?
A: At this time, the vaccination remains voluntary for DoD personnel and beneficiaries. On July 29, the Department of Defense released this statement regarding vaccination guidance issued by President Biden on the same day: "In accordance with the guidance the President issued today, all military and civilian DoD personnel will be asked to attest to their vaccination status. Personnel unable or unwilling to do that will be required to wear a mask, physically distance, comply with a regular testing requirement and be subject to official travel restrictions."
Read the full statement HERE.
Q. Where can I get vaccinated?
A. COVID-19 vaccinations are readily available throughout the USEUCOM region. Medical Treatment Facilities (MTFs) are ready to administer shots to all who are eligible and desire the vaccine. Appointments for vaccinations are no longer needed at most USEUCOM medical treatment facilities. Please check with your local facility for current procedures.
Q. What vaccines are available in the USEUCOM region?
A. Available vaccines include Moderna and Janssen/Johnson & Johnson for adults and Pfizer/BioNTech for adolescents.
Q. Do the vaccines work?
A. The vaccines available to DoD personnel and beneficiaries in the USEUCOM region have proven to be effective against all strains of the coronavirus, including the Delta variant.
Q: If I am fully vaccinated, do I still need to follow protective measures?
A: Following guidance issued by the Centers for Disease Control and Prevention, the Defense Department issued a MEMO on July 28 directing employees working in areas at high risk for transmission to begin using face masks again as a measure to prevent the continued spread of the COVID-19 virus, especially the fast-moving, highly-transmittable Delta variant. Within USEUCOM, we must also follow host nation guidance. Many host nations are currently evaluating their guidance for fully vaccinated individuals. Force Health Protection guidance at the installation and unit level will provide information on what procedures must be followed in your area.
Q. I previously declined to take a vaccine, but now I would like to get vaccinated. Is a vaccine still available to me?
A. Yes. Contact your local Medical Treatment Facility (MTF) for information about where to get vaccinated.
Q: Can I/my family get the vaccination off-base at a local provider in the country where I/we live?
A: Personnel who receive care at host nation medical facilities are advised to contact their primary health care provider for information about the availability of a vaccination in the local community where they live and work.
Other pages in this section