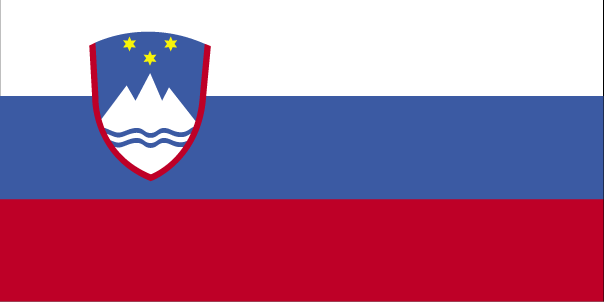 | Capital | Area | Languages | Population | Currency |
| --- | --- | --- | --- | --- |
| | | | | |
Slovenia and the United States have a positive relationship and work together actively on a number of fronts. The government of Slovenia has diligently pursued its restructuring, reorganization, modernization, and procurement with the paramount goal of NATO interoperability.

More than geographically, Slovenia is a bridge from developed Europe into the Balkans, an area of the continent where significant diplomatic and security challenges remain. Slovenia's current international commitments show its willingness to become a co-provider of security in the region.
The U.S. European Command provides a liaison team that works with the Ministry of Defense full-time to develop greater familiarity with NATO structures and procedures.
The Slovene military force structure consists of one fully professional motorized infantry brigade and two cadre/reserve force mechanized brigades; a small air force, equipped with helicopters and turbo-prop fixed wing aircraft; and a naval attachment, including a coastal patrol boat. The United States provides bilateral military assistance to Slovenia, including through the International Military Education and Training (IMET) program, the Foreign Military Financing program, the State Partnership Program (aligned with Colorado), the George C. Marshall European Center for Security Studies, the EUCOM Joint Contact Team Program, and the Regional Counterterrorism Fellowship Program.

Slovenia contributed helicopters, medical personnel, military police, and an infantry company to the NATO Stabilization Force in Bosnia and Herzegovina (SFOR) and continues to be very active in the European Union Force (EUFOR). Slovenia had deployed troops and assistance to Bosnia and Herzegovina, the NATO Kosovo Force, International Security Assistance Force (ISAF) mission in Afghanistan, and various other NATO and EU missions.

Slovenia has taken an active role in humanitarian assistance, with donations to the victims of the Haiti earthquake, the Southeast Asian tsunami, the Pakistan earthquake, and Hurricane Katrina, as well as ongoing assistance to refugees in Darfur and support for the World Food Program.

Through its International Trust Fund for Demining and Mine Victims Assistance (ITF), Slovenia has created the demining instrument of choice for the international community in Bosnia and Herzegovina, the rest of the Balkans, and now even further afield in Central Asia and Cyprus. The organization has raised more than $261 million since its inception in 1998 (with the United States contributing over $128 million).

Slovenia participates in the Proliferation Security Initiative (PSI) to halt the proliferation of weapons of mass destruction (WMD), their delivery systems, and related materials worldwide. It is party to the Wassenaar arrangement controlling exports of weapons and sensitive technology to countries of concern and has ratified all 13 international anti-terrorism conventions.