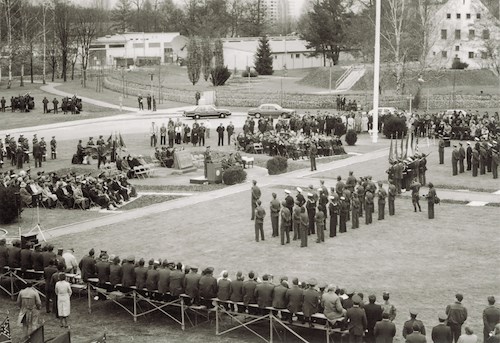 From the archives: servicemembers stand in formation during a change of command ceremony on Patch Barracks in 1986.

Down in Building 2301 on Patch Barracks here in Stuttgart, Germany, on the bottom floor is the office of one of U.S. Europe Command's unsung heroes. For two years now, Daniel Fitzpatrick is the EUCOM historian, doing everything from providing guided tours on weekends to helping organize the 70th anniversary of Normandy.
Tours and group talks are something of a second nature for Fitzpatrick. Teaching and instructing is something he loves. He taught military history to ROTC cadets at Rochester Institute of Technology, Florida Tech and more notably Leadership at West Point Military Academy.
Upon arrival in Germany, he found the then-current method of record keeping unsatisfactory. Many documents that were vital to the history of EUCOM, and the Stuttgart Garrison itself, had been destroyed. Since then, he has begun the process of scanning all documents into PDFs, writing an annual history of EUCOM, conducting oral interviews; as well as building the historian program into one of notability.
When researching or learning something new in history, he looks at the viewpoints of all sides to try and educate to help understand where the problems originate. As a historian, he is able to delve deeper than the generalities that many are usually exposed to media sources such as the History Channel. He believes in learning from the past, to look for patterns and how to move on and grow from the experience.
""History is not about facts and numbers, it's about the people,"he said.
He says that when looking at the past from all angles, it's easier to understand the how's and why's. When one can understand the motivations, it is easier to recognize patterns of past behavior. As history has a tendency to repeat itself, if patterns can be seen, deterrence and being proactive can alter current and future events
"We are living in a digital dark age. Trying to keep the documents and data updated while trying to preserve the current flood of information is like trying to take a drink during a hurricane while standing in Niagara Falls," said Fitzpatrick.
As technology platforms continue to upgrad,e many of the historical documents stored on then-high profile tools are now outdated. In the early 1990s, many of EUCOM's historical documents were scanned and stored on floppy disks and DOS drives. Now that we, as a society, have progressed to the digital age of thumb drives and servers, the data on the Smithsonian-esque material has become harder to obtain.
When the weather turns warmer, and there's no longer a crisp chill in the air, you can find Fitzpatrick giving his walking tour of Patch Barracks on the first Saturday of every month. His tour will take you through the history of the barracks, the area, and the people. He offers Staff Rides, the taking of general officers on a tour around the bases giving a detailed account of historical events to teaching the youth groups about their surroundings. From Generals to Girls Scouts, he is willing to share the information he gathers because history isn't exclusive; it's our past and our future.